Hello Everyone! :) I thought I'd do a post concerning this topic, because it's been mentioned on our blog, and I know not everyone is familiar with the phrase. First of all, what is a bucket-list?
Bucket List: A list of things you want to do before you die. (aka "kick the bucket" :P)
I have not compiled one of these for myself yet, but I do know several things that would be on mine:
To never stop growing in and learning about my Lord! :)
To visit NY City and go see a Broadway show!!!!
To learn either French or German, and be able to translate, speak, and read either fluently.
To get a Great Dane puppy. (Now, when I say puppy, I mean puppy. Not a 9 month old dog, please. A cute, little, as young as I could get, puppy. :)
And to fall in love and marry a man after God's heart and have a family! :)
Do you have a bucket-list? If not, what would a few of your top things be?
As part of this post, I'd like to invite ya'll to enter a bucket-list giveaway held by
Polka-Dot
! Here's the link: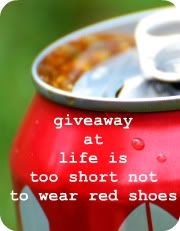 This looks like a really fun thing, and I hope ya'll enjoyed this post! :) Thanks!
~Sarah